Pablo Hamlet provides low income housing for seniors with  rental apartments quietly nestled in Mother Nature featuring walking trails in Jacksonville Beach, FL
---
Since 2002, Pablo Hamlet in Jacksonville Beach has provided quality, affordable low income housing for seniors. Our senior rental apartments are a great option for seniors who want independent senior living near the Intracoastal Waterway in a beautiful  setting quietly nestled in Mother Nature. A recently upgraded and expanded Pablo Hamlet features a quiet setting with walking trails tucked away in a maritime habitat including a pond and nature park landscaping. Pablo Hamlet is close to Beaches' shopping, churches, world-class medical facilities, the Atlantic Ocean, and the Intracoastal Waterway. Amenities include:
Spacious (1) & (2) Bedroom Apartments with an all-electric kitchen, emergency call system, ample closet space, cable TV and phone ready, elevator (each building), and laundry facilities (each floor)

Utility allowance and individually controlled heat and A/C 

New multi-purpose Community Center with a

business center, computer room, library, beauty shop, and a Service Coordinator to identify and connect local services to Residents

Multi-purpose kitchen and expanding space for resident-sponsored social events and  classes 

Convenient, well-lit parking and 24-hour emergency maintenance

Scheduled Dial-A-Ride transport
Are you interested in our Pablo Hamlet senior community? Call us or send an email today!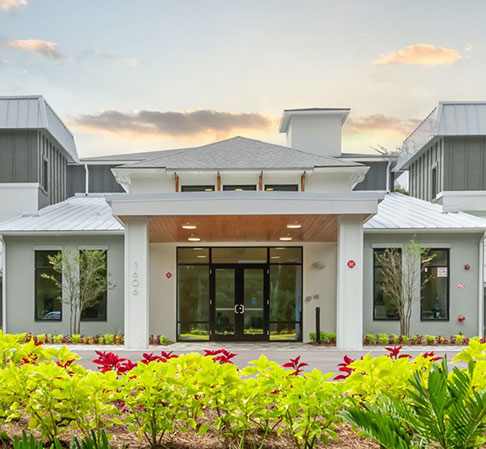 Eligibility
New residents must qualify for an apartment at Pablo Hamlet, The applicant must be at least 62 years old or over 18 and disabled. Please note that 10% of our units are set aside and designated for the disabled.  
Cost
For the 104 Section 8 subsidized apartments, individual rents are based on each resident's annual adjusted income according to guidelines established by the Federal Government and subsidized by the Housing Assistance Payment Program. We make additional adjustments to reflect changes in median family income in Duval County and consider provable medical expenses and other approved allowances. For the 50 new tax credit apartments, yearly income is a consideration and rent is not subsidized. Housing vouchers can be considered.
Note: Pablo Hamlet employees are neither licensed nor trained to give meal service, physical or medical care.
Applications
At the present time, applications are NOT being accepted for our subsidized, 1-BR apartments due to an extensive waitlist.  Applications for our 2-BR subsidized apartments (you must qualify as to the need for a 2-BR) and fifty 1-BR tax credit apartments are being accepted and can be requested in person, by phone, email, or U.S. mail. However, due to certain regulations, applications must be numbered and dated, and cannot be sent via email. Therefore, please include your address when requesting an application. Please return the completed applications via U.S. mail or in person to: Pablo Hamlet, 1606 Shetter Avenue, Jacksonville Beach, FL 32250.  Applications are subject to penalties for false or fraudulent statements according to Title 18, Section 1001 of the U.S. Code.
Please note: Due to high volume, ALL applications for residency will be placed on a waiting list and open units will be assigned based on listed preferences and the date the application was received.
Amenities Include:
Spacious (1) & (2) Bedroom Apartments with an all-electric kitchen, emergency call system, ample closet space, cable TV and phone ready, elevator (each building), and laundry facilities (each floor)

Utility allowance and individually controlled heat and A/C 

New multi-purpose Community Center with a

business center, computer room, library, beauty shop, and a Service Coordinator to identify and connect local services to Residents

Multi-purpose kitchen and expanding space for resident-sponsored social events and  classes 

Convenient, well-lit parking and 24-hour emergency maintenance

Scheduled Dial-A-Ride transport
Gallery
Floor Plans